ZSY Hardened cylindrical Gear Reducer/Gearbox Product Description
ZSY/ZLY/ZDY Cylindrical gear reducer gear carburizing, quenching, grinding, high bearing capacity, low noise; mainly used for belt conveyor and various kinds of transport machinery, can also be used to drive other general machinery. It has the advantages of high bearing capability, long service life, small volume, high efficiency, light weight, for the input shaft and the output shaft is vertically arranged in the driving device.
The field of cylindrical gear reducer is widely used in metallurgical equipment, mining equipment, automation equipment, food machinery, packaging equipment, tobacco equipment etc.
ZLY Hardened cylindrical Gear Reducer/Gearbox Characteristics:
1. Small size, light weight, high accuracy, large carrying capacity, high efficiency, long service life, high reliability, transmission smoothly, low noise.
2.All the gear are made of high quality alloy steel, processe by carburizing and quenching, and the hardness of tooth surface is reach up to hrc54 - 62.CNC grinding technology is adopted for all gears, with high precision and good contact performance.
3. high transmission efficiency: single stage over 96.5%; double stage over 93%; three stage over 90%.
4.stable operation and low noise;compact structure, light weight, long service life and high bearing capacity.
5.Optimized design for the center distance and nominal transmission ratio. Have good interchangeability for the main parts and components.
6.Use oil samp to lubricate, natural cooling.
7.easy to disassemble, check and assemble.
ZSY Hardened cylindrical Gear Reducer/Gearbox Application:

1.The input speed is generally ≤ 1500 r/min.
2. It can be widely used in metallurgical, mining, chemical, construction, lifting, transportation, textiles, paper making, instruments, plastics, rubber, energy and other industrial field.
3. The circumferential speed of gear drive is no more than 20 m / s.
4.The working temperature is - 40~50 ℃, if less than 0℃. Lubricating oil should be preheated more than 0 ℃ before start running. This gear reducer can run reversible.
Hardened cylindrical Gear Reducer/Gearbox Types
ZDY single-stage cylindrical gear speed reducer, ZLY double-stage cylindrical gear speed reducer,
ZSY three-stage cylindrical gear speed reducer.
ZDY Hardened cylindrical Gear Reducer/Gearbox Outline Size and Installation size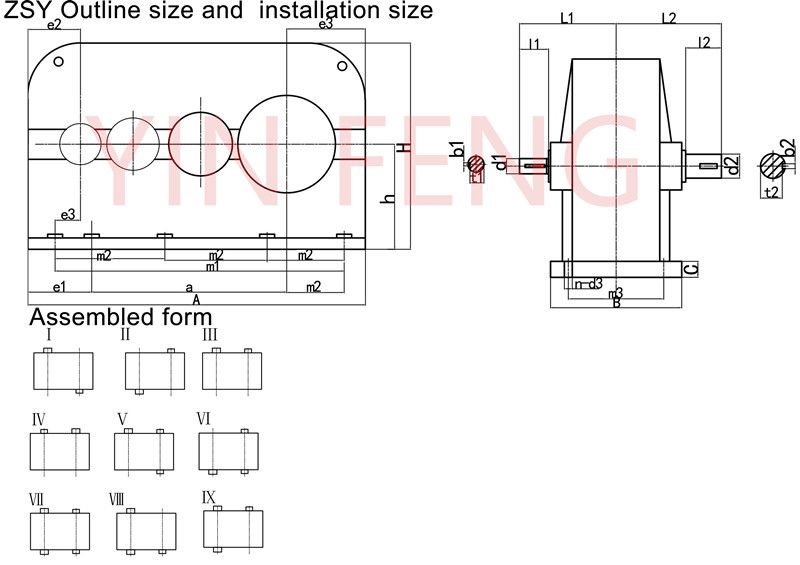 ZSY Hardened cylindrical Gear Reducer/Gearbox
Outside Drawing and Assembled Form Unit(mm)
Model

A

B

H

≈

a

Transmission Ratio: i=22.4~71

Transmission Ratio :i=80~100

d2

(m6)

I2

L2

b2

t2

d1

(m6)

I1

L1

b1

t1

d1

(m6)

I1

L1

b1

t1

160

600

290

375

352

24

36

166

8

27

19

28

158

6

21.5

75

105

245

20

79.5

180

650

320

435

395

28

42

187

8

31

22

36

181

6

24.5

85

130

285

22

90

200

745

355

492

440

32

58

218

10

35

22

36

196

6

24.5

95

130

300

25

100

224

840

390

535

496

38

58

233

10

41

24

36

211

8

27

100

165

355

28

106

250

930

450

589

555

42

82

282

12

45

32

58

258

10

35

110

165

380

28

116

280

1025

500

662

620

48

82

307

14

51.5

38

58

283

10

41

130

200

440

32

137

315

1160

570

749

699

48

82

337

14

51.5

42

82

337

12

45

140

200

470

36

148




Transmission Ratio: i=22.5~35.5

Transmission Ratio: i=40~90












355

1280

600

870

785

60

105

380

18

64

48

82

357

14

51.5

170

240

530

40

179

400

1420

690

968

880

65

105

410

18

69

55

82

387

16

59

180

240

560

45

190

450

1610

750

1067

989

70

105

450

20

74.5

60

105

450

18

64

220

280

640

50

231




Transmission Ratio: i=22.4~45.5

Transmission Ratio: i=50~90












500

1790

830

1170

1105

80

130

515

22

85

65

105

490

18

69

240

330

730

56

252

560

2010

910

1320

1240

95

130

530

25

100

75

105

505

20

79.5

280

380

820

63

292

630

2260

1030

1480

1395

110

165

625

28

116

85

130

590

22

90

300

380

880

70

314

710

2540

1160

1655

1565

120

165

685

32

127

90

130

650

25

95

340

450

1010

80

355
Model

c

m1

m2

m3

n1

n2

e1

e2

e3

h

Anchor bolt hole

Weight

(kg)

d3

n

160

32

510

170

245

38

120

83

107

188

180

18.5

8

170

180

32

570

190

275

37.5

137.5

85

109

209

200

18.5

8

205

200

40

630

210

300

40

150

97.5

128

238

225

24

8

285

224

40

705

235

335

43.5

165.5

110.5

141

263

250

24

8

395

250

50

810

270

385

60

195

120

158

293

280

28

8

540

280

50

855

285

430

35

200

120

160

325

315

28

8

750

315

63

960

320

490

40

218

143

189

364

355

35

8

940

355

63

1080

360

520

42.5

252.5

143

188

398

400

35

8

1400

400

80

1200

400

590

45

275

155

215

445

450

42

8

1950

450

80

1350

450

650

48

313

178

240

505

500

42

8

2636

500

100

1500

500

710

59

332.5

200

277

557

560

48

8

3800

560

100

1680

560

790

70

370

235

324

624

630

48

8

5100

630

125

1890

630

890

72.5

422.5

255

344

694

710

56

8

7060

710

125

2130

710

1000

92.5

472.5

297.5

400

780

800

56

8
ZSY Hardened cylindrical Gear Reducer/Gearbox Product Display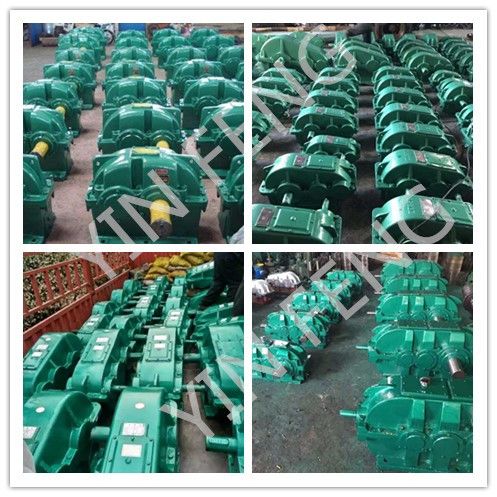 ZSY Hardened cylindrical Gear Reducer/Gearbox Packaging