Application

coal,mine,quarry,cement,harbor,steel,power,crusher,screen industry

Shell Material

Carbon steel, stainless steel,nylon,plastic,ceramic,hdpe, uhmw-pe

Roller Type

Carrying,Impact,Return,Friction,Tapered,Guide,Spiral,Comb and so on

Surface Treatment

carbon steel, Rubber ring, nylon etc

Usage

Used in coal,mine,steel,cement,harbor,crusher heavy industry

Advantage

1. Low vibration, low noise

2.Reduced power consumption (to start and run the conveyor)

3.Min 30,000 hours standard life time

4. effectively prevent impurities, water, air, the erosion of the inner

roller.

5. widely used in the outdoor dust is bigger, high corrosive environment, such as mines, power plants,

steel mills, stones factory, cement, coal washing, salt factories, soda,

fertilizer plants, docks ect.

6. Reduce stress both avoid scattered material on the edge of the

conveyor belt

7. avoiding to correct the action of running deviation of belt conveyor




standard set of tests

Load capacity tests

Wear tests

Sealing against dust and water tests

Start and run resistance tests
Self-aligning Idler Set Product Usage
Self-aligning idler set is suitable for all kinds of belt conveyors
1. Belt conveyor for one-way movement
2. Belt conveyor with high belt speed, large capacity and long distance
3. Suitable for belt conveyors with limited installation space
4. It is suitable for belt conveyors with upper and lower transport, high strength and harsh environment.
5. Applicable to belt conveyors where the roadway is subject to high and low undulations due to geological forces.
Can be widely used in coal mines, power plants, transportation ports, cement plants, coal washing plants and other fields.
Self-aligning Idler Set Feature
1. The oil circuit adopts a fully sealed structure, the parts are universally interchangeable, and the waterproof and dustproof effects are good.
2, easy to install, no power, self-test self-drive, random adaptive, self-contained system, work performance is extremely reliable;
3, no damage to the belt, the corrector structure is simple, long life, good effect, low operating cost;
4. The rectification resistance is small, the power consumption is reduced, the action is reliable, the reaction is sensitive, and the belt is forwardly operated for a long time with automatic repeated rectification, without lag, the product is durable and easy to maintain.
Self-aligning Idler Set Size Available
Roller diameter (mm)

Roller lengths (mm)

Bearings

Shaft diameter (mm)

63.5

160-3500

6204

20

76

6204

20

89

6204

20

102

6205

25

108

6205

25

114

6205

25

127

6205;6206

25,30

133

6205;6206

25,30

140

6205;6206

25,30

152

6305,6206,6307,6308

25,30,35,40

159

6305,6206,6307,6308

25,30,35,40

165

6305,6206,6307,6308

25,30,35,40

178

6206,6307,6308

30,35,40

191

6206,6307,6308

30,35,40

194

6206,6307,6308

30,35,40
Self-aligning Idler Set Display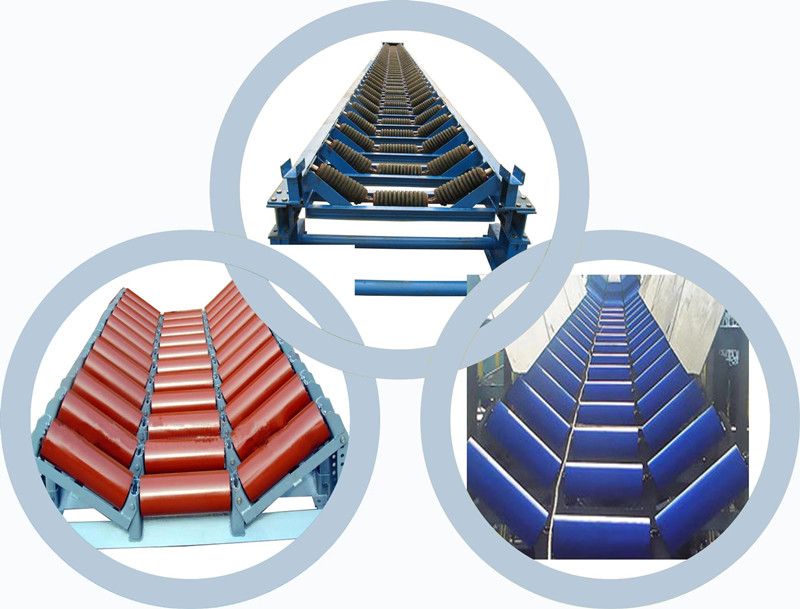 Self-aligning Idler Set Packaging